---
Gold Member Application
Dear Independent Practice Owner,
Congratulations on taking the first step to operating a more profitable and stress-free practice!
Please read this entire application, fill out all the fields and be sure to read the FAQ section, so that you are familiar with how the Optical Success Academy program works.
With your Gold Membership you receive:
The Roadmap To Success Toolkit which includes all of the following:
Roadmap To Success MANUAL with In-Depth Practice Analysis Survey
Roadmap To Success DVDs and Webinar
Quick Start Guide – 5 Audio CDs and MP3s
3 Months of Conor Heaney's "Look Over My Shoulder" Newsletter
3 Months of OSA's Masterclass Calls
3 Months of Staff Training Calls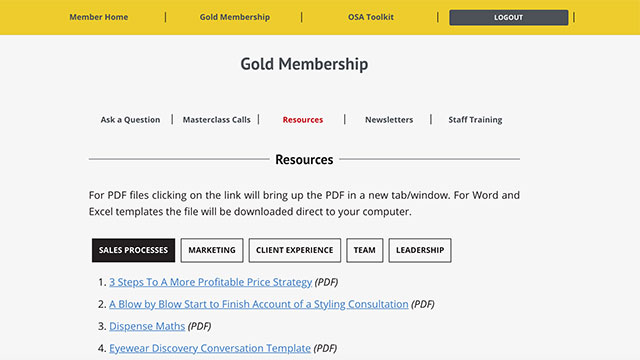 3 Months Free Access to the OSA Membership site
3 Months of the Ride Along Marketing Program
---
How The Program Works
1. Fill out your information and answer the application questions in the form below.
2. Enter your payment details and complete your order on the next screen.
3. Please allow 1 – 5 days for your application to be processed and approved.
How Much Does The Program Cost?
The Optical Success Academy Roadmap To Success Toolkit is just 3 payments of $297 (Each payment will be 30 days apart).
With the purchase of the Roadmap To Success Toolkit you also receive 3 months free trial membership as a Gold Member in Optical Success Academy. The Gold membership includes access to the membership site, our monthly 'Look Over My Shoulder' newsletter, and monthly group coaching calls. This will be set up as a free 3-month period. At the end of 3 months, your Gold Membership will continue with a monthly investment of $297. But if you decide not to continue with the Gold Membership it's easy to cancel by emailing or calling us. There is no contract and you are not tied in. You can cancel your monthly membership at any time. After your free trial period, Optical Success Academy Gold, Diamond and Titanium membership fees are non-refundable.
THE OSA ROADMAP TO SUCCESS SYSTEM IS COVERED
BY THE OSA 12 MONTH MONEY BACK GUARANTEE.
If you are unhappy with your purchase for ANY reason, simply return the manuals, CDs and materials within 365 days of purchase date and we will refund 100% of your money. No questions asked.
The guarantee completely covers your initial investment in the Optical Success Academy system. Ongoing monthly membership is not part of this guarantee.
Frequently Asked Questions:
1. As a Gold Member, will I be able to ask you questions as the course goes on?
Yes. Each month you can dial in for the OSA monthly masterclass call and ask a question in the Q&A portion of the call. In addition, you can submit a question by email for me to answer on the call. You will also receive a recording and transcript of the monthly masterclass call.
2. What results can I expect as a member of this program?
After 12 months you should have accomplished the following:
Increased your monthly revenue through increased eyewear sales
Be working less IN your practice
Have happier patients and many compelling 5-star Google reviews
Improved capture rates and better retention of your existing patients
Have less stress
Have more motivated staff who are performing at a higher level than ever before
Be better at managing your own time
Have increased your average eyewear sale by an additional $50 to $200
And much, much more. This is just a short list that is easy to accomplish.
3. How fast should this happen for me?
The results you see with anything new you do in your practice will be in direct proportion to how much energy you devote to it. With that said, there is no other program available that you have a better chance of success with because I am a busy practice owner myself, and I have designed the OSA program to deliver results with minimal investment of your time.
OSA will give you a huge shortcut to getting your practice to the level you want it to be at. The main thing is that you work as hard as you can to get these systems going in your practice. Just pace yourself and strive for steady growth and improvement each month.
---
Kevin Count, Corner Eyecare
Glenview, Illinois
"

We've added $52,000 to our bottom line in the last 6 months working with Optical Success Academy.

"

My least favourite meeting of the year used to be the one with my accountant. That all changed this month when my accountant told me we've added $52,000 to our bottom line in the last 6 months working with Conor Heaney and Optical Success Academy.

Conor's program has forced me to re-examine everything in my practice. We've refined our pricing and our processes and in just 6 months we're really seeing the true potential of the practice.
---
Brittany Graber ABOC, Owner, Ulla Eyewear
Madison, Wisconsin
"

Since starting with Optical Success Academy 6 months ago we've had 3 record-breaking months.

"

My father started Ulla Eyewear 20 years ago as one of Madison's only independent and family-owned eyewear stores with a tradition of style and originality. I purchased the business in 2009 and over the years figured out how to run a business and made in into a very successful store.

What was really nice about discovering Conor was it helped me strengthen the business with better processes. After 20 years I know how to do most things in running an optical store but there were lots of processes we had that just weren't working. Conor's program showed me how to make small changes that have made big difference to the business.

We have 8 staff and communication was a challenge and our processes were a challenge. Involving my staff in Optical Success Academy has created a much more cohesive team with a great team atmosphere. Conor has made it much easier to get effective processes going.

Conor gives a different perspective to my business. I like that I get so much support and it's really helpful being able to talk through these things with someone who has gone through every part of this business himself.

It comes down to treating your customers and patients completely different than how other stores are going to treat them. You can customise their experience. OSA has helped me educate my staff which is a big thing because they are on the front line interacting with the customers. So all of these things we were doing before have been refined, upgraded and given an extra boost from Conor and it's made a big impact.

We've made real progress working with Conor despite a challenging year with many transitions. Conor's help and guidance means we've laid a foundation for a great 2019. Since starting with Optical Success Academy 6 months ago we've had 3 record-breaking months. And we're just getting started!
---
Dr Mary Boname, Montgomery Eyecare
Skillman, New Jersey
"

Being in Optical Success Academy has given me the tools to take my practice to the next level.

"

Although my practice was already successful and doing well I was feeling over-worked with no clear path forward. I felt stuck. Working with Conor has helped me carve out time to work on the practice. Practices don't excel just by accident – you need processes. Optical Success Academy has those processes.

Being in Optical Success Academy has given me the tools to take my practice to the next level. Working with Conor has been a lifeline that has given me a new plan and the support and confidence to make it happen.

I can now articulate exactly where I am going with my practice. Communication within the practice is much better. We've got a steady flow of new patients who love our concierge-like experience. I'm very excited about the future and have a whole new energy for my practice."
---
Leah Johnson, Central Texas Eye Center
San Marcos, Texas
"

Conor Heaney and the Optical Success Academy have cutting edge ideas for the optical industry.

"

Conor Heaney and the Optical Success Academy have cutting edge ideas for the optical industry. Since becoming a member only 3 short months ago, we are already doing things for customers that no other optical in the U.S. is doing. We can say with complete confidence that we are different than all other optical stores. Creating the VIP experience for our customers has become our #1 specialty. If you are looking to take your practice to the next level, this is THE program for you. And a big shout out to Carina! She has given us full support along the way.